As far as alternative lifestyles go, life on a boat holds some serious romantic appeal. But life on boat powered exclusively by solar power? With radiant heat, a wood-burning stove and an optional wind power system? That's the Bauhaus Barge (which comes to us via Treehugger), a Dutch barge currently moored in London.
This is a boat with all the comforts of home, including  a full kitchen, bedroom and living room, with natural daylighting provided via a combination of windows and skylights. In fact, its owner/designer is quick to point out that visitors are routinely amazed at all of its creature comforts and it futuristic layout. As per the Bauhaus Barge website: "Most people's reaction on entering or seeing Bauhaus is that of utter amazement either about the space, comfort, design features or all. We had people saying 'it's not a boat, it's a floating flat' or 'when are we off to Mars, where are the space engines' but whatever [the] comment, everybody agrees that it is a fantastic place to be."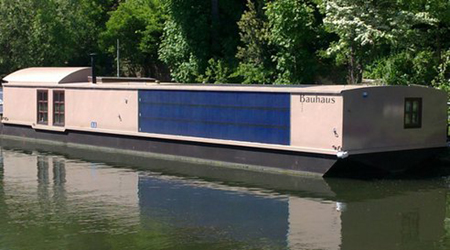 Some central design features of the barge include its chocolate-colored, Germania Art Deco-Bauhaus style 1930s wood-burning stove, and, of course, its solar panels.
The Bauhaus Barge's photovoltaic (PV) array consists of twelve polycrystalline UniSolar PVL-144 laminate amorphous solar panels mounted to the barge's starboard side as well as its roof. Why mount solar panels on the side of the boat? Well, in a nutshell, because the barge's owner lives in London — the boat is currently moored in the Thames.
In order to take advantage of the region's scant sunlight (which, even at midday comes in at an angle) the solar panels on the starboard side of the barge make use of nature's solar concentrator—i.e., the surface of the water, which acts like a mirror to the sun's rays. According to the barge's owner, this arrangement provides the boat with more power per square meter than roof-mounted panels can produce, especially in the mornings and evenings.
Over the course of a year, the Bauhaus Barge's PV system produces around 1,400 kilowatt-hours of free, carbon-neutral juice, which makes for over 2,000 kilometers (around 1,242 miles) of carbon neutral cruising, depending on the degree to which power is utilized for everyday living.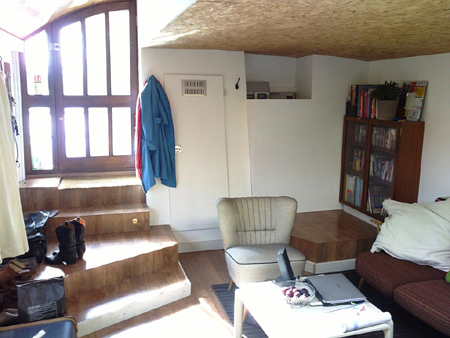 The barge is home to an Indesit washing machine/dryer, a Baumatic slimline dishwasher, a Viscount electric cooker and a fridge- freezer. Not to mention such civilized pleasures as a a shower, sink, porta potti cassette toilet and even a breakfast bar, which separates the kitchen from the lounge.
This is, of course, not the only solar boat out there, as options range from quiet solar sailboats to giant hybrid luxury yachts and just about everything in between. But as far as an actual place of residence on the water, powered by solar, the Bauhaus Barge seems like a nice balance of efficiency and creature comforts. And if it appeals to the romantic in you, let it be known that this rig is, indeed, for sale.