Last June, First Solar was riding high on the wave of three conditionally approved loan guarantees under the Department of Energy's Section 1705 program. But things went downhill fast after that. While First Solar has so far avoided the fate of clean energy loan-guarantee 1705 poster child Solyndra, there's no denying that 2011 turned out to be a rough year for one of the country's largest solar manufacturers.
First, the company lost a conditionally approved federal loan guarantee for its Topaz Solar Farm project in San Luis Obispo County, California. Then, in October, with its stock shares at a four-year low, the company surprised everyone by firing CEO Rob Gillette.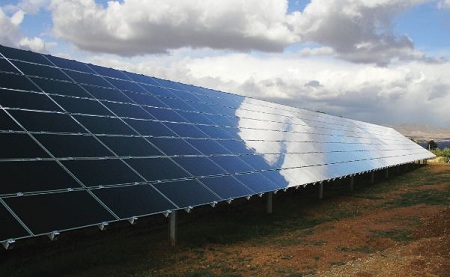 But 2012 is looking a little bit sunnier. First Solar is starting off the year with a new efficiency record and a new friend: Warren Buffett. Des Moines, Iowa-based MidAmerican Energy Holdings Company, a subsidiary of Buffett-controlled Berkshire Hathaway, has completed its acquisition of the 550-megawatt (MW) Topaz Solar Farm. The project is currently under construction, and is expected to be completed by early 2015.
That sale comes on top of the earlier sales of two loan-guaranteed-backed projects, Solar Ranch One and Desert Sunlight.
Under the new arrangement with MidAmerican, First Solar will continue to build, maintain and operate the facility. Once completed, the Topaz project will be one of the world's largest solar farms, and will generate enough electricity to power approximately 160,000 California homes. MidAmerican says that the project will create approximately 400 construction jobs and 15 ongoing operations and maintenance jobs.
"We are pleased to be moving forward with MidAmerican Renewables on the Topaz project—one of the two largest PV projects in the world, which are both being built by First Solar," said Frank De Rosa, a First Solar senior vice president. "First Solar is the leading developer of utility-scale PV projects, and MidAmerican Renewables' investment in these renewable resources is a significant endorsement."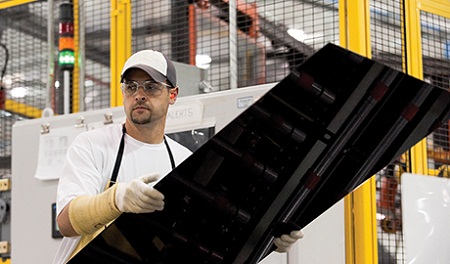 Power generated by the facility will be purchased by Pacific Gas and Electric under a 25-year power purchase agreement. The agreement will help PG&E comply with California's renewable portfolio standard, which requires utilities to generate 33 percent their electricity with renewable sources by 2020.
While MidAmerican owns acres upon acres of wind farms in Iowa, the Topaz project marks the company's first foray into solar power. It has also bought a 49 percent stake in NRG Energy's Agua Caliente project, a 290-megawatt (MW) solar plant being built in Arizona, also by First Solar.