Solar panels and art have collided in a new public art display in Clearwater, Florida. The Sun Catcher sculpture by Alabama artist Deedee Morrison is part of the city's program to get art on city streets.
Along with providing a visual treat for the eyes, the display also incorporates lessons of sustainability. The 15-foot sculture is made of recycled aluminum with colored lucite. A solar panel is installed on the top panel of the sun totem and captures the energy of the sun during the day. At night, the stored energy is used to emit a dramatic glow that adds dimension and beauty to the unique piece of art.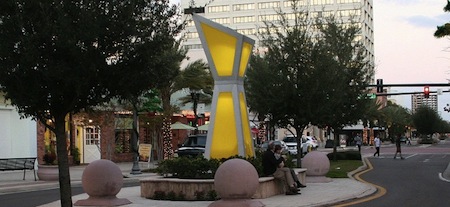 "This is the wonderful opportunity for a sustainable public art project along the islands in the Cleveland Street District," Morrison said in a statement.  She added that she has an affinity for plants, other natural forms and light, and that the sculpture is a melding of her interests in nature and her fascination for technical and scientific advances. Also, she said, the yellow in this awesome piece of art "mirrors the vibrant yellow hues of the sun."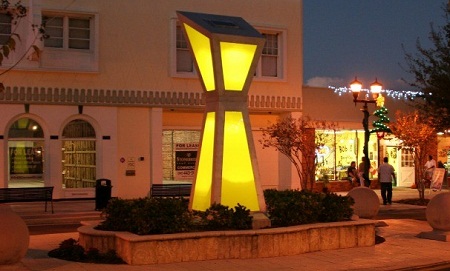 So what's next on her list of designs? Morrison has said her next three projects will also include solar panels. One will be a sustainable flower with flexible solar panels built into the flower petals. We can't wait to see that bloom!