When we think of solar power in the United States, we typically think of solar panels going up on Ikea stores or above parking lots to offset our energy costs. What doesn't often spring to mind is that solar power, solar lighting in particular, can have an overwhelmingly positive effects when used in developing countries. A number of companies are hoping draw attention to that solution.
Angaza Design has designed its SoLite product specifically to providing lighting solutions for families who live off-grid in developing countries. The product includes a solar panel that provides up to 2 watts of energy to power an LED light. The light can be mounted permanently to the ceiling, or hung in a variety of orientations and puts out 200 lumens of light. It can light an entire room so multiple people can share the same light source at once. On normal mode the light will last 8 hours and on high mode a total of 4 hours.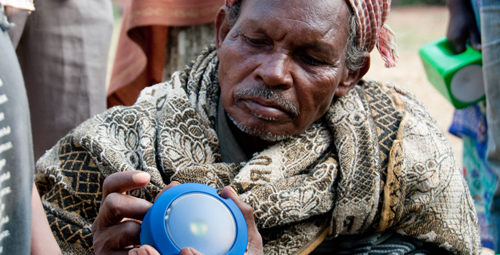 Angaza is hoping to raise $15,000 in contributions to provide the capital to manufacture their next batch of the solar lights.
Currently, those without power rely on kerosene burning lamps that are expensive, toxic and dangerous. Inhaling kerosene fumes is said to be the equivalent of inhaling two packs of cigarettes each day. Angaza says the SoLite will not only improve health, but can help families save as much as $150 per year. That might not sound like much, but the families who benefit from the SoLite are living on less than $2 a day.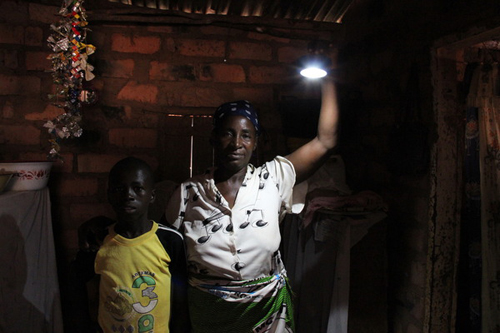 This isn't the first product that EarthTechling has featured that helps provide solar lighting solutions in developing countries. Last month we featured the Wakawaka, a solar power LED light that can last for 16 hours and is designed to easily sit atop a cola bottle. Inventors hoped to be able to produce it for less than $10 in developing countries like Africa and India, the same cost of two or three months worth of toxic lighting fuels.
Econet Solar also recently launched a product called the Home Power Station. It uses a solar panel to charge a battery which provides enough juice for four lights and a cell phone charger. The most interesting thing about this system is the way people pay for their power. It is said to be the first solar power system that is paid for via pre-paid cell phone.  An estimated 96 percent of  of mobile subscriptions in Africa are on a pre-paid, or pay as you go basis.