American solar manufacturing might be struggling, but it isn't dead. At a plant in Perrysburg, Ohio, First Solar put together a cadmium-telluride (CdTe) photovoltaic (PV) solar module that achieved a record 14.4 percent total area efficiency, the company said. This measurement of light conversion across a production-size, multi-cell solar module, confirmed by the National Renewable Energy Laboratory, beats the old record – also held by First Solar – of 13.4 percent.
The company noted that the record performance came six months after it set a world mark for CdTe solar cell efficiency – a measure of the proportion of light converted to energy in a single solar cell – at 17.3 percent. Like the module, the cell was constructed using commercial-scale manufacturing equipment and materials at the Perrysburg factory, First Solar said.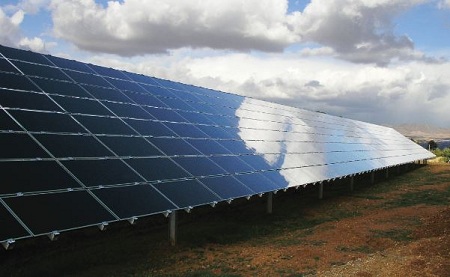 "This considerable achievement supports our module efficiency roadmap and demonstrates our ability to convert our record-cell technology into ongoing module-level improvements," said Dave Eaglesham, First Solar's chief technology cfficer, who announced the new module record at the World Future Energy Summit in Abu Dhabi. "These records also underscore the tremendous ongoing potential of CdTe compared to silicon-based technologies."
In November, First Solar said it had driven its average module conversion efficiency up to 12.4 percent on its "best-performing production lines" during the third quarter of 2011, and that "average conversion efficiency for all production lines was 11.8 percent in the third quarter, up from 11.7 percent in the second quarter."
Increased efficiency, of course, means lower cost. First Solar had said then that at 12.4 efficiency, it could produce panels at less than 70 cents per watt, which Bloomberg reported to be the lowest in the thin-film industry. But in December First Solar updated its module efficiency roadmap, ratcheting up its end-of-2015 target to 14.5-15 percent average efficiency for its production modules. That's up a full percentage point from its previous 2015 goal. The company said it expects to reach 12.7 percent in the fourth quarter of 2012.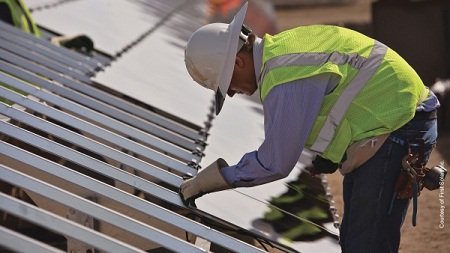 "Our continuous investment in R&D has enabled the steady progress of our technology, punctuated by landmark achievements such as this," Mike Ahearn, chairman and interim CEO of First Solar, said in a statement. "Our consistent progress gives us confidence in our ability to achieve our roadmap goals, drive down costs and develop sustainable markets."
For First Solar, the hope is that world-leading efficiency can keep it afloat while the solar manufacturing sector is roiled by excess capacity and price pressures, especially from China. In 2011, the company's stock slid more than 80 percent from its February high around 170 to near 30 in December. Ahearn, a company founder who had handed over leadership in 2009, who was brought back in December to try to right the ship in.