Across the developing world, the labor-intensive and unpaid work of farming and collecting water, and the household chores of cooking and refilling kerosene fuel lamps fall disproportionately on women. In Uganda, a 2006 report [PDF] by the World Bank found that women comprise 80 percent of all unpaid workers, and are commonly marginalized in the formal employment sector because of their gender. However, research suggests that Ugandan women are highly entrepreneurial and credit-worthy. The primary barriers to women contributing to greater economic growth in Uganda are their lack of information about their own legal rights, and the access to mechanisms to enforce them.
Helping women overcome these barriers is the mission of Solar Sister, a social enterprise that provides training, working capital and marketing support to help women entrepreneurs in Uganda launch businesses offering portable solar lights, solar-powered mobile phone and radio charging solutions and clean cook stoves.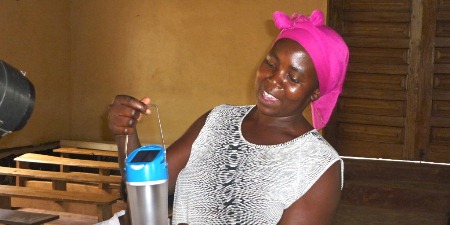 Since 2009, Solar Sister has helped launch 132 "micro-enterprises" in three countries, and provided over 17,000 people with solar-powered lighting solutions. By supporting women entrepreneurs, Solar Sister enables women to earn income for their households and, ultimately, help their families overcome poverty.
Solar Sister is now partnering with the Center for Applied Innovation, a Chicago-based nonprofit, to provide education and training for 100 girls in Uganda, as part of the Invent for Humanity campaign. Working closely with a Solar Sister mentor, the girls will learn about solar technology, environmental and health benefits of clean energy technologies, and have the opportunity to earn income for school improvement projects.
The Invent for Humanity will also provide 10 Solar Sister entrepreneurs with a "business-in-a-bag" — including inventory, training and marketing support to help them to take the benefits of clean energy technology to their own un-electrified communities.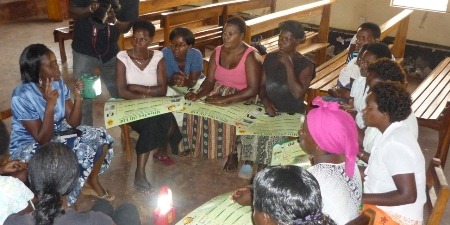 The idea is to leverage women's natural social networks to deploy clean, affordable energy solutions, while stimulating economic development in poor communities. Solar Sister Founder Katherine Lucey summed it up nicely in an interview last year with Care2.com: "Clean energy technology has been developed that is affordable, appropriate and available," Lucey said. "But it is not easily accessible to the people who need it most, the women and children in rural communities. Through access to technology, Solar Sister creates critical, lasting change in the lives of women and girls living with the devastating effects of energy poverty. Solar Sister works because it addresses a real need, the need for light and energy in communities without access to electricity. We do this by tapping into one of the most powerful, but overlooked, networks in the world, womens' natural social networks of family, friends and neighbors."
Invent for Humanity leverages the experience of professionals in intellectual property and licensing, such as the Center for Applied Innovation, to support appropriate and sustainable technologies that benefit people living in developing countries. This year's other featured campaigns include low-cost hearing aids for children in Vietnam, energy-efficient biomass stoves for women in India and an innovative lever-driven wheelchair designed for rough terrain and constructed from bicycle components. An entire list of Invent for Humanity campaigns can be found here.