Wastewater treatment plants are becoming a popular site for governments to install solar energy systems. Most recently, the city of Dinuba, Calif., in partnership with Chevron Energy Solutions and Tioga Energy, built a 1.15-megawatt (MW) photovoltaic (PV) system at its wastewater treatment plant, southeast of Fresno. The system is expected to cut the facility's electricity use by 70 percent.
The ground-mounted array consists of 4,704 PV modules installed on 3,000-pound concrete slabs atop a capped landfill near the plant. The project was engineered and constructed by Chevron Energy Solutions. Tioga Energy financed, managed and owns the project, and will sell electricity generated by the system to the city at a fixed rate, under a 20-year power purchase agreement. Tioga Energy specializes in facilitating long-term renewable energy power purchase agreements for commercial, government and non-profit organizations. These agreements enable these organizations to install renewable energy systems with no up-front capital investment.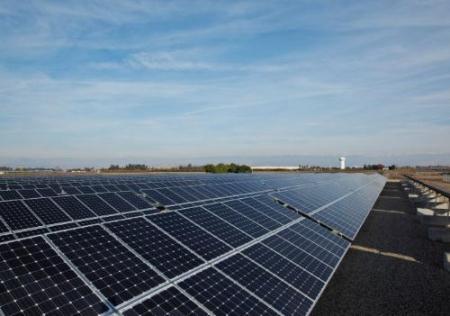 "The city of Dinuba had a noteworthy vision to transform an otherwise unusable site into a clean energy-generating asset for the community," said Jim Davis, president of Chevron Energy Solutions. "Chevron Energy Solutions is proud to partner with the city of Dinuba to provide its residents with a new solar energy landmark."
Chevron Energy Solutions and Tioga Energy have also recently collaborated on a solar canopy project in Hawaii. Tioga Energy also helped pioneer the renewable energy bond financing model known in the industry as the "Morris Model", with the Morris County Improvement Authority in New Jersey. This innovative model enables governments to issue low-interest bonds to finance renewable energy systems, while partnering with a third-party financier to leverage federal tax incentives.