Leveraging a report that showed a record 449 megawatts (MW) of capacity installed in the third quarter this year, the Solar Energy Industries Association (SEIA) once again called for Congress to extend a key federal tax provision or risk seeing the industry run aground.
A petition by the manufacturer SolarWorld that seeks duties on Chinese solar module and cell imports has split the industry, but when it comes to the U.S. Treasury Department's Section 1603 program there is no division: Manufacturers, supply-chain players and installers all agree that the provision, which allows renewable energy developers to receive a grant for up to 30 percent of the cost of a project in lieu of claiming an energy tax credit, has been vital to growth. The grant option was instituted for two years in 2009, as the financial crisis froze up tax equity markets. After heavy lobbying late last year it was extended through the end of this year – and for the past several months, the industry has been beating the drums for another extenstion.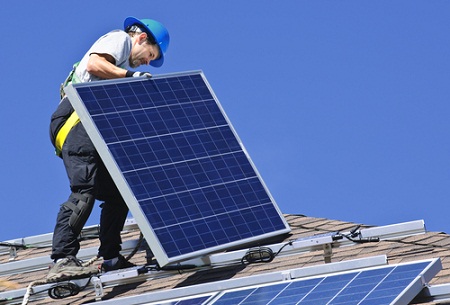 "The U.S. solar industry is on a roll, with unprecedented growth in 2011," Rhone Resch, president and CEO of SEIA, said in a statement. "Solar is now an economic force in dozens of states, creating jobs across America. But our industry needs stable policy on which to make business decisions, and unfortunately an underlying mechanism for financing solar projects is scheduled to expire on December 31."
It was, indeed, a spectacular third quarter for the industry. According to GTM Research and the SEIA, grid-connected PV installations in the quarter were up 39 percent over the previous quarter and 140 percent over the third quarter in 2010. A big part of the growth was utility PV installation, which topped 200 MW, a more than 400 percent increase over the second quarter.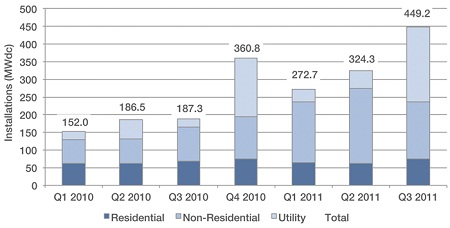 To put it all in perspective, with three months to go, new U.S. solar installations had surpassed 1 gigawatt (GW) – 1,046 MW, to be precise – for 2011, already a huge jump over the total of 887 MW for the entire year of 2010. GTM said that with the surge in installs, "cumulative grid-connected PV in the U.S. has now reached 3.1 GW, which is ten times the size of the U.S. solar capacity in 2005."
The question now is if that momentum can be maintained. To hear the industry tell it, what happens with the 1603 provision will be a telling factor.
"U.S. solar is entering 2012 with a sense of cautious optimism," Shayle Kann, managing director of the solar practice at GTM Research, said in a statement. "There are three questions on the mind of everyone in the market: one, what would be the impact of the 1603 Treasury Program's expiration; two, can emerging commercial markets like Massachusetts, Colorado, Ohio, Tennessee, and Hawaii ramp up as major markets like California, New Jersey and Pennsylvania trend downward; and finally, how will the trade petition against Chinese solar imports impact market dynamics, both in the immediate term and if duties are ultimately levied?"