The Republic of Palau is a small island nation about 500 miles east of the Philippines. The main island has an electrification rate of nearly 100 percent, generated almost entirely from expensive imported diesel fuel. But a new solar energy system is helping Palau take advantage of the island's vast solar resources. A 226.8-kilowatt (kW) photovoltaic (PV) system was recently installed at Palau's Roman Tmetuchl International Airport out the capital city of Melekeok.
The system, which is the island's largest grid-tied PV system, consists of 1,080 Kyocera 210-watt solar modules installed on shading structures in the airport's parking lot. The facility is expected to produce 250 megawatt-hours (MWh) of electricity and offset roughly 80 tons of carbon dioxide emissions per year. Because the island is susceptible to typhoons, the system was fitted with reinforced support bars across the back side of each module, for enhanced protection against the wind.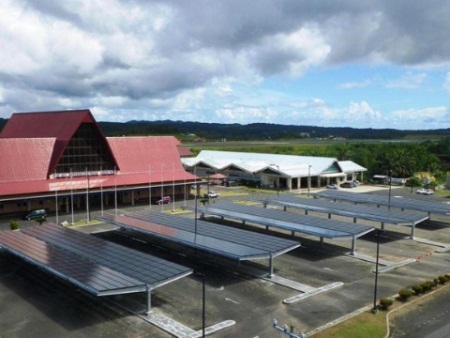 According to REP-5, an initiative of the European Development Fund to support the energy sectors of five island countries, the airport PV system is the second grid-tied PV system on the island, following a 100-kW system installed at the capitol complex in Melekeok in 2008. The installation follows a trend we have been witnessing in development aid programs in recent years, of helping small island nations reduce their dependence on imported fossil fuels by switching to solar power and other renewable energy sources.
An inauguration ceremony for the system was held last month, with Palau President Johnson Toribiong and other officials from both Palau and Japan in attendance. The project was made possible through a collaboration between Kyocera, Wakachiku Construction Company and funding from Japan's Official Development Assistance office.