A home solar solution that makes use of the electrical wiring that's already in your home? This revolutionary concept comes courtesy of Asoka's SolarLink powerline communication (PLC) adapter, which uses a home's existing wiring to allow for data logging and remote monitoring of the residential solar photovoltaic system.
Here's how it works: the SolarLink PLC adapter directly connects the solar power system's inverter and data logger to the residence's home area network Internet service through the electrical wiring, uploading data to the solar service provider. That solar service provider can then remotely monitor the system's performance via a Web interface and diagnose maintenance issues without on-site visits, saving the system's owner on maintenance costs.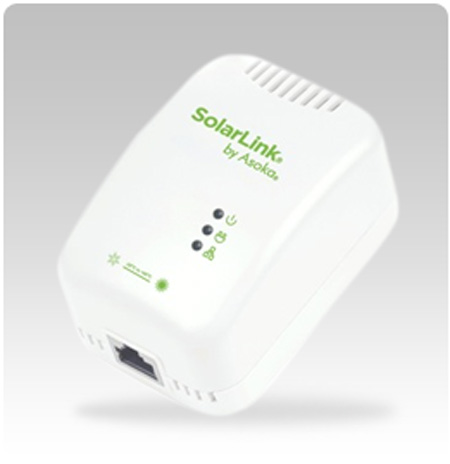 Another benefit of the adapter, according to the company: it gives solar providers an easy way to share system data with the customer, allowing customers to see how much power their system has produced, how much of that power they have used and how much has been sold back to their utility.
Many solar providers currently offer this kind of information, but the SolarLink PLC Adapter, according to Asoka, eliminates the need for complex cable installations while offering more reliability than wireless systems, providing flexibility in installation, reducing installation costs. Asoka sees SolarLink is a key part of its Digital Living Service line of solutions, which include home energy management products and home monitoring features that can be layered on top of existing broadband and/or IPTV services. The company specializes in PLC hardware.