Warren Buffett has taken another bite of big solar. The billionaire's MidAmerican Energy Holdings struck a deal for a 49 percent stake in NRG Energy's Agua Caliente project, a 290-megawatt (MW) photovoltaic solar plant going up in Arizona that MidAmerican valued at $1.8 billion. This move by Buffett comes fast on the heels of MidAmerican's purchase of First Solar's 550-MW Topaz project in California.
First Solar, which is building the Topaz plant, has a hand in Agua Caliente, as well. The company had acquired the project when it gobbled up NextLight in 2010. Then this year, First Solar sold Agua Caliente to NRG. That deal closed when a $976 million federal loan guarantee for the project was finalized. As with Topaz, First Solar is building the Agua Caliente plant.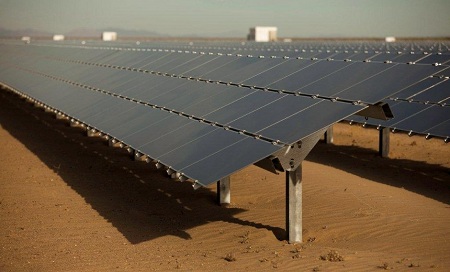 Until the two recent deals, MidAmerican, which calls itself the "No. 1 owner of wind-powered energy among rate regulated utilities," had been a no-show on large-scale solar. But it looks like it might be looking for even more.
"We are aggressively pursuing opportunities to expand our presence in the renewable energy sector, and the Agua Caliente project is another important step toward that goal," Greg Abel, chairman, president and CEO of the company, said in a statement.
Like Topaz, Agua Caliente has a long-term power purchase agreement in place with the California utility Pacific Gas & Electric. The plant is expected to be completed in 2014.