President Barack Obama made SolarWorld's day on Tuesday. In an interview with a Portland, Ore., television reporter, the president was asked about the company's allegations that China is violating trade rules and dumping crystalline silicon solar cells and panels into the United States. While the president stopped well short of endorsing SolarWorld's demand for tariffs, he did sound a sympathetic tone.
"We have seen a lot of questionable competitive practices coming out of China when it comes to the clean energy space, and I have been more aggressive than previous administrations in enforcing our trade laws," the president told KGW reporter Tracy Barry (pictured below with the president). "We have filed actions against them when we see these kinds of dumping activities, and we're going to look very carefully at this stuff and potentially bring actions if we find that the basic rules of the road have been violated."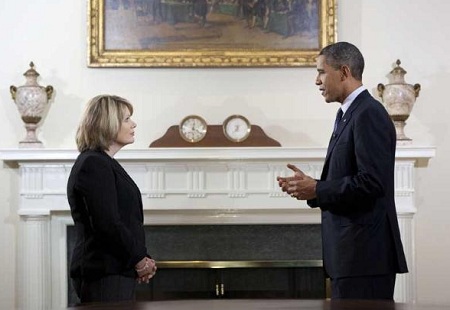 The Coalition for American Solar Manufacturing (CASM), the group SolarWorld formed with six unnamed companies that are also part of the China petitions, seized on the president's statement. Within 24 hours, the CASM had sent out a press release headlined, "Obama affirms concern about China's clean-energy trade, citing 'a lot of questionable competitive practices.'"
Gordon Brinser, president of SolarWorld Industries America  – which is headquartered in the Portland suburb of Hillsboro – saw Obama's remarks as validation of the CASM allegations.
"The President acknowledged there are a considerable number of questionable trade practices, including dumping, coming out of China," Brinser said in the CASM statement.  "We are heartened to hear that the Administration is looking closely at our case and the President has restated his commitment to enforcing U.S. trade laws."