With their high visibility, high energy use and ample educational opportunities, zoos are becoming popular places (and again, here) to install solar panels these days. Zoo Miami has recently joined the ranks of solar-powered zoos, with a photovoltaic (PV) system installed on the trellis in the main plaza of its Amazon & Beyond exhibit. The installation was a donation from Florida Power & Light (FPL), and is the result of a partnership between FPL's Next Generation Solar Education Station program, Zoo Miami and the Zoological Society of Florida.
In addition to generating about 617 kilowatt-hours of electricity for the zoo each month, the 5-kilowatt system will also provide school groups and other visitors to the zoo with a hands-on opportunity to learn about renewable energy.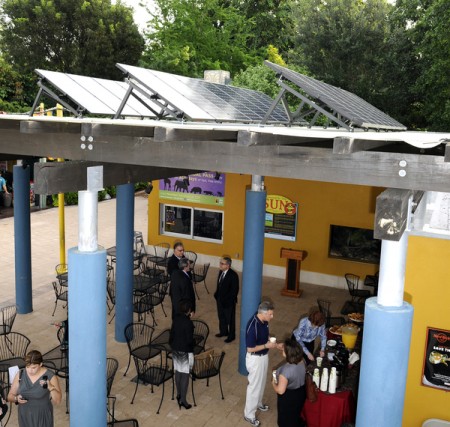 As the largest utility in the Sunshine State, FLP has also been a leader in utility-scale solar power development. When it opened in 2009, the utility's 25-megawatt (MW) DeSoto Next Generation Solar Energy Center was the largest photovoltaic power plant in the country. To date, FPL has constructed and commissioned three solar power plants with a combined capacity of 110 MW, which generate power for its 4.5 million customers throughout the state.
According to Manny J. Rodgriguez, regional director of external affairs for FLP, raising awareness of renewable energy through educational demonstration systems like the one at Zoo Miami is an important part of preparing young generations for the future. "For the leaders of tomorrow, solar and other clean forms of renewable energy will be a major part of everyday life," he said in a statement. "In addition to providing real energy savings for the zoo, the solar array also serves as a science learning tool visitors can enjoy year-round."