Desertec, a massive, seemingly fantastic plan hatched in 2009 to mine the clean-energy resources of North Africa and the Middle East, will apparently take its first concrete steps in 2012 when construction begins on a 500-megawatt (MW) solar power plant in Morocco. This is the word from climate scientist Ernst Rauch of Munich Re, the big German reinsurer that is in the Dii consortrium of companies and organizations promoting Desertec.
Reuters reported that Rauch told a German newspaper that the Morocco plant would be built in phases, starting with a 150-megawatt (MW) installation that would take two to four years to build. The plant would ultimately grow to 500 MW, but even at that would be just a small piece of Desertec's planned puzzle: It aims to supply nearly 100 percent of power demand in the Middle East and North African countries, as well as 15 percent of Europe's energy, by 2050.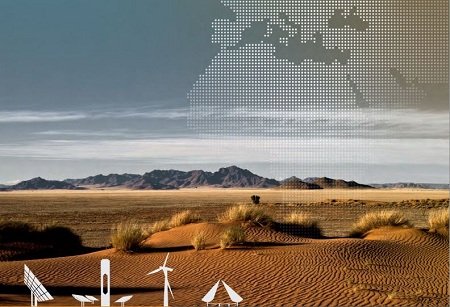 Germany has proved that with big investment even not-famously-sunny places can produce a lot of solar power, but the Desertec belief is that to truly revolutionizing the energy sector will require taking advantage of the most abundant resources available. And in North Africa they see lots of sun (and some wind, too). "In North Africa and the Middle East the average solar radiation is twice as high as in central Europe," backers say on the Dii site.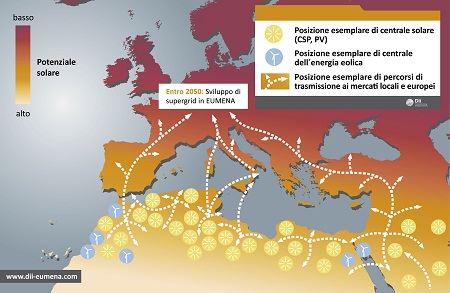 The Dii site suggests that both concentrating solar and photovoltaic systems are under consideration for the network of solar installations envisioned. The Reuters story hinted that CSP would be used at the Morocco plant, but added that details "such as location, technology, and financing" would not be agreed upon until early 2012.
In addition to Munich Re, companies and organizations involved in the Dii consortium include: ABB, Abengoa Solar, Cevital , Desertec Foundation, Deutsche Bank, Enel Green Power, E.On, HSH Nordbank Flagsol, Munich Re,  M+W Group, NAREVA Holding, Red Eléctrica de España, RWE, Saint-Gobain Solar, Schott Solar, Siemens and Terna (Italy).