Engineering, procurement and construction firm ABB has launched a new concentrating solar power (CSP) technology that the company says uses considerably less material, land and water than other CSP plants. Plus, it says, plants using the new technology are extremely easy to build and operate.
Instead of the curved mirrors of a parabolic trough, ABB-Novatec Solar's patented "Fresnel-based CSP technology" uses flat glass mirrors to reflect solar energy into a water-filled receiver tube, super-heating the water to 500 degrees Celsius to generate steam. ABB says that the technology uses 70 percent less material, requires 40 percent less land and consumes 80 percent less water per megawatt (MW) of power than parabolic trough designs. By using components such as sheet plates and glass mirrors, which can be easily mass-produced locally, the cost of building and operating the plants is further reduced, the company says.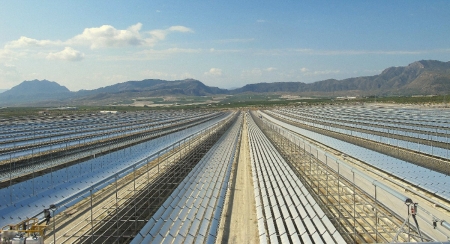 ABB-Novatec's 1.4-MW Puerto Errado 1 demonstration plant in Murcia, Spain, has been generating power for the Spanish power grid since 2009. The company is also currently building Puerto Errado 2, the first commercial power plant to use the technology. With 28 rows of mirrors, the 30-MW power plant covers an area of 650,000 square meters and will produce about 50 million kilowatt-hours of electricity per year—enough to power about 12,000 households. The technology can also be used in a hybrid system to increase the fuel efficiency of conventional power plants, in desalination and district cooling plants, or in any industrial process that requires steam. ABB said its 9-MW array in Liddell, Australia, will be the world's first use of solar thermal technology to provide supplemental power to a gas power plant.
"I was really impressed by the technology and its simplicity," Bennaceur Fateh, an Algerian engineer at Sonelgaz CEEG who recently toured the Puerto Errado plant, said in a statement released by ABB. "This cost-effective solution and the very low amount of water needed, make it particularly suitable for installations in Algeria and all African countries experiencing difficult climate conditions."
Help Carbonfund toward their goal of planting 1,000,000 trees. Subscribe to Green Earthling Deals by Friday, Nov. 25, 2011, and EarthTechling will donate $1 for every new subscriber. See contest rules for details. Sign up in the upper right-hand corner at EarthTechling.com or right here.