China is a solar manufacturing titan, but it hasn't been much of a solar power producer, with installed capacity barely cracking the top 10 globally, according to the Renewables 2011 Global Status Report. But that might be changing. In October, Hanas New Energy Group said it had begun work on a cutting edge integrated solar combined cycle power plant – an integration of trough solar thermal generators with gas turbine generators – in Ningxia, a mostly desert region in the north central part of the country.
According to the U.S. Department of Energy's National Renewable Energy Lab (NREL), a combined-cycle system uses solar heat for steam generation and gas turbine waste heat for preheating and superheating the steam. The NREL says this type of setup can just about double steam turbine capacity – but when solar energy isn't available, the steam turbine must run at part load, which reduces efficiency.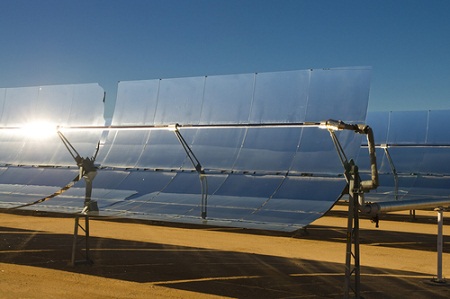 The NREL says the solar contribution possible with these systems can be boosted by adding thermal energy storage, and that's exactly what Hanas says its doing in Ningxia.
"With an investment of RMB2.25 billion (approximately US$346 million) and planned capacity of 92.5 megwatts, the power station represents an alternative to the traditional trough solar power generation by adding storage facilities and co-operating with combustion turbines for maximizing utilization of solar power resources," the company said in a statment. "The power station is of great significance in terms of strategic development and innovation in China's solar power generation sector."