Each branch of the U.S. military – the country's largest consumer of energy – is taking a unique approach to hitting an aggressive U.S. Defense Department target to get 25 percent of electricity from renewables by 2025. The Marines have taken to using portable solar power systems, and the Army has installed several renewable energy technologies, including geothermal heating and cooling systems, at its barracks.
The Vermont National Guard has recently completed the installation of a photovoltaic system at its South Burlington base. The 1.5-megawatt system will save the Vermont National Guard nearly $250,000 per year in energy costs, and reduce carbon dioxide emissions by about 236 tons per year. That makes it one of the largest solar installations in Vermont, and one of the largest solar projects on any National Guard base in the country.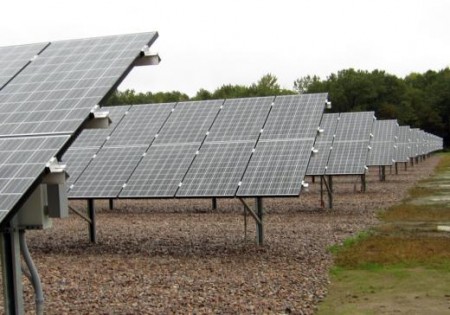 According to U.S. Sen. Bernie Sanders (I-Vt.), chairman of the Senate Green Jobs and the New Economy Subcommittee, the Vermont National Guard base is one of the greenest in the country, and a model for other bases.
"I am very appreciative and proud of what General (Michael) Dubie and the Vermont National Guard have accomplished in constructing this solar project," said Sanders. "The U.S. military is the largest consumer of energy in the world, and the Vermont National Guard is now playing a significant role in becoming a model for the Department of Defense as it moves toward energy efficiency and sustainable energy."