Constellation Energy has begun work on a 16.1-megawatt (MW) solar power project in Emmitsburg, Md., that it says will become the state's largest grid-connected photovoltaic plant. The ground-mounted installation will use 220,000 thin-film panels from First Solar on 100 acres of land leased from Mount St. Mary's University. As part of the deal, the university will get a separate 1.3-MW system to power the campus directly, Constellation said.
Solar in Maryland is encouraged by the state's renewable portfolio standard, which requires that electricity suppliers source 20 percent of their power from renewables by 2022, with 2 percent of the power specifically coming from solar. Last year, Constellation bought and completed development of the 70-MW capacity Criterion Wind Project in Garrett County, Md.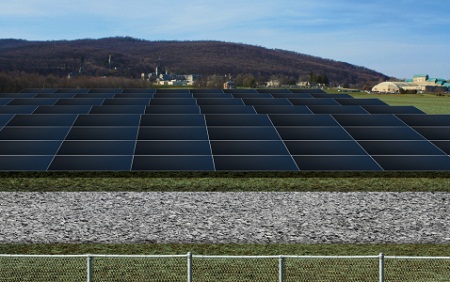 The Emmitsburg project is one of four renewable energy projects approved under Maryland's Generating Clean Horizons program. Under the initiative, the state issued requests for proposals for long-term power purchase agreements from renewable sources delivering clean power to the grid by 2014.
Constellation said about 75 people are working on the Emmitsburg project, with a workforce of 150 expected during the height of construction. "The system is scheduled for operation in early 2012 and is expected to produce more than 22 million kilowatt-hours of emissions-free electricity per year," Constellation said.
Constellation said it will finance, own and operate the Emmitsburg plant, which will cost about $60 million to build. Power produced will go to the state of Maryland's Department of General Services and the University System of Maryland under 20-year purchase agreements.