Whether Chinese manufacturers are cheating or not, as SolarWorld and six unnamed compatriots charge, there is little question these are challenging times for U.S. crystalline silicon solar manufacturers. But Georgia-based Suniva had some good news to tout recently, reaching an agreement to supply SunCap in its expanding solar leasing program.
You might remember Suniva from a story we did in 2010, when it won conditional approval for a federal loan guarantee to help build a manufacturing plant in Michigan. The company ended up scuttling those plans and the loan guarantee was never finalized. However, Suniva did receive a $5.7 million U.S. Department of Energy tax credit through the 2009 stimulus, and has been hailed by DOE Secretary Steven Chu as an example of government investment in clean energy paying off.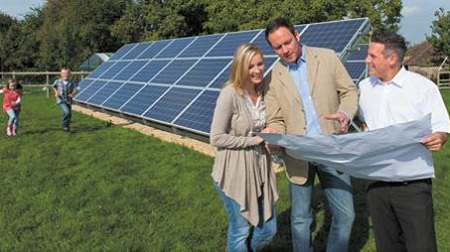 In the SunCap announcement, Suniva played the home-grown card, noting that its solar modules "contain more than 80 percent U.S. content and are fully 'Buy America' compliant."
SunCap, meanwhile, is the solar-financing arm of NRG Energy, a New Jersey-based behemoth with its tentacles in energy production from a range of resources, from coal to wind. Its solar leasing program – available now in Arizona, California, Massachusetts, Maryland, Colorado, New Jersey, New York, Pennsylvania and Texas, but said to be expanding – functions along the same lines as those offered by companies like Sungevity and SolarCity: SunCap works with partner companies to design and install a system at no upfront cost to the homeowner, then the homeowner pays for the leasing as well as the electric bill, presumably at a lower cost combined than the old electricity bill.