More than a quarter of U.S. solar industry jobs are in California, according to details of the National Solar Jobs Census 2011 released today. Last month, the Solar Foundation released the topline data in the report, showing there were 100,237 Americans working in the nation's solar power industry as of August 2011, a 6.8 percent increase from a year earlier.
After California's whopping 25,575 solar jobs, the falloff is steep, with Colorado next at 6,186. Arizona (4,786), Pennsylvania (4,703), New York (4,279), Florida (4,242), Texas (3,346), Oregon (3,346), New Jersey (2,871) and Massachusetts (2,395) round out the top 10.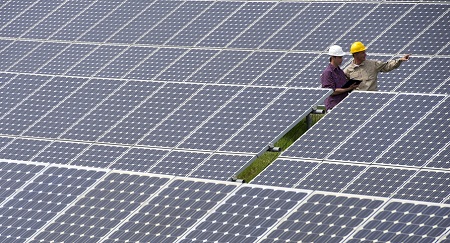 Based on a survey of solar firms, the report forecast the industry's employment growth rate would rise in the next 12 months. It said nearly half of all firms anticipate adding workers in the period, with some 24,000 additional positions – a 24 percent gain – expected to be filled.
Even in the manufacturing sector, where foreign competition has presented a challenge, "almost 44 percent of manufacturing firms expect to add jobs over the next year, with 3,473 jobs expected to be created during that time (a 14 percent growth rate)," the report said. But in raw numbers, the bulk of the new hires will come in installations, where falling PV prices are a boon and firms expect to bring on an additional 13,068 workers in the coming year.
It should be pointed out, however, that last year, when the Solar Jobs Census reported 93,000 workers in the industry, employers also forecast 24,000 new jobs in the coming year. As the new report shows, the actual expansion fell short of that by some 17,000 workers.
The full 2011 report, compiled by the consulting firm Green LMI and Cornell University, is available online [PDF].