Joule, a biotech company whose tagline is, "Pioneering the production of liquid fuel from the sun," is apparently backing up that claim. It was the top company in the 2011 Wall Street Journal Technology Innovation Awards in the energy category, and received the Silver award across the competition's 16 categories. Joule was chosen "for developing a more efficient technique for producing biofuel," the Journal wrote.
"The Cambridge, Mass.-based company has created genetically engineered micro-organisms that secrete ethanol, diesel fuel and other hydrocarbons from water, sunlight and carbon dioxide," the Journal said. "The use of these patented organisms eliminates some of the costly processing steps needed to turn plants into motor fuel."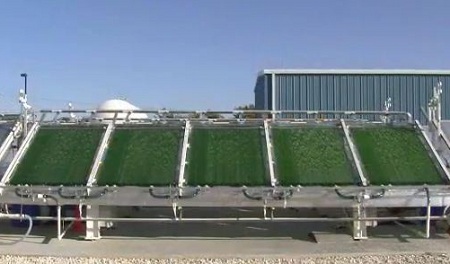 "We started with a big idea – the direct conversion of sunlight to fuel without raw material feedstocks – and four years later we've proven the process, optimized the technology, built a strong patent portfolio and laid the groundwork for commercial production to begin in 2013," said Bill Sims, president and CEO of Joule.
Joule targets commercial production of up to 15,000 gallons of diesel and 25,000 gallons of ethanol per acre annually, at stable costs as low $20 per barrel equivalent and $0.60 per gallon, including subsidies.
The Journal said there were more than 600 entry from around the world in the annual competition.  Judges assessed entrants on the following criteria: whether the innovation breaks with conventional ideas or processes in its field; whether it goes beyond marginal improvements on something that already exists; and whether it will have a wide impact in its field or on future technology.