One Block Off the Grid, the startup that aggregates buyers in geographical areas to leverage discount pricing from solar power providers and installers, says it's growing like crazy. The San Francisco-based company reports that month-over-month growth since April has averaged 70 percent, and the company has doubled its workforce from 21 to 42 to help keep up with it all.
One Block has been creating a big buzz with its business model, fetching mention in Time, the Economist and the New York Times – even earning the title "the Groupon of solar power" from CNN.  In July, we reported on the company's expansion into 34 states.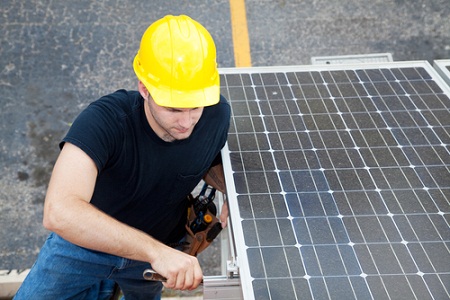 "Our approach has really resonated with these homeowners," said Dave Llorens, One Block's founder and CEO. "They love our group discounts and flexible leasing options. They also love that we manage the entire project for them from beginning to end. We needed to staff up to support the growing demand."
The company said it hired 12 people in August alone, primarily in sales and system design. One Block now claims 101,000 U.S. homeowners as registered users, up 46 percent since April.