In 2005 Monmouth University, a private school in West Long Branch, New Jersey, installed a 454-kilowatt (kW) photovoltaic (PV) system on four campus buildings. At the time, the system was the largest solar power array at any university east of the Mississippi River. Recently, the school has announced that it will install PV systems on seven additional campus buildings, increasing its current PV production capacity by about 200 kilowatts (kW).
The new systems will be installed by Pro-Tech Energy Solutions and partner Torcon. Power generated by the PV systems will be purchased under a long-term power purchase agreement. In addition to the seven buildings receiving solar panels, six buildings have been coated with a cool roof coating, which blocks the sun's heat and UV rays, reducing interior temperatures and cooling costs.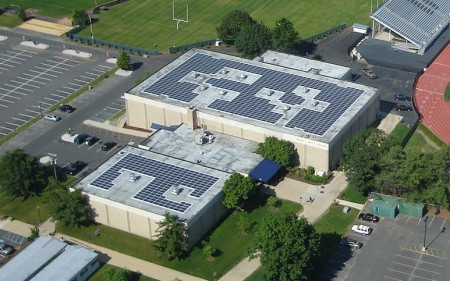 Over the years, Monmouth University has initiated several green building and campus sustainability projects, distinguishing itself among green schools. In 2009, Monmouth became the first independent university in New Jersey to sign a comprehensive green operating agreement through the U.S. Environmental Protection Agency's (EPA) Green Power Partnership program. The school says that it has since reduced its carbon footprint by 11,299 metric tons of Carbon Dioxide Equivalents (approximately equivalent to removing 2,160 vehicles from the road for a year).
Other recent campus sustainability projects at the school include a car sharing program, use of hybrid vehicles and solar golf carts, energy efficient lighting and water-saving fixtures and appliances, and reuse and recycling of landscape materials. "Monmouth University is committed to being a national leader in sustainable energy and will continue to implement programs to create a more energy efficient and environmentally responsible environment for our students and employees," said President Paul G. Gaffney II.