European and Middle Eastern royalty gathered recently in Spain for the dedication of a solar power plant, and while we don't typically pay much heed to such pomp and pageantry, in the case of Gemasolar we're making an exception. This is the remarkable plant, after all, that earlier this summer pumped out power uninterrupted for 24 consecutive hours.
The 19.9-megwatt (MW) capacity Gemasolar plant uses a power tower system, with 2,650 mirrors (heliostats, in the vernacular) bouncing sunlight to the top of a 460-foot tower at the center of the circle of mirrors. Owner Torresol Energy says a super-efficient receiver absorbs 95 percent of the radiation aimed at it, heating molten salts inside the tower to more than 500 degrees Celsius. The hot molten salts are then stored for use when the sun goes down or when clouds move in.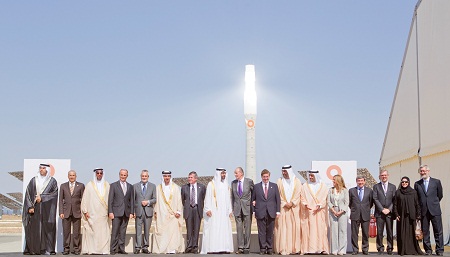 A technologically similar plant appears to be on course for development in the United States, and on an even bigger scale, after the U.S. Department of Energy approved a $737 million loan guarantee to help build the Crescent Dunes Solar Energy Project in Nevada. Crescent Dunes will use power tower technology, with 17,500 heliostats pointed at a 640-foot tower. Plans call for the plant to have a capacity of 110 MW.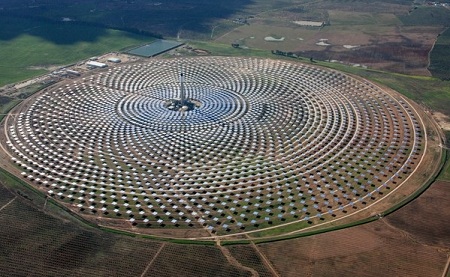 Torresol, it should be noted, is a joint venture between the Spanish company Sener Aeronáutica and Masdar, also known as the Abu Dhabi Future Energy Company. It was that joining of forces that brought His Majesty the King of Spain Juan Carlos I and His Highness General Sheikh Mohamed bin Zayed Al Nahyan, Crown Prince of Abu Dhabi, out to the Gemasolar site in Fuentes Andalucía, Spain.