Davidson College in North Carolina will soon join the ranks of Monmouth University and Taylor University, small private U.S. colleges that have installed renewable energy systems on campus to reduce their energy costs. Davidson said it will soon install two solar energy systems on its Baker Sports Complex. First, a 64-collector solar thermal system will heat water for the facility's pool and showers using a glycol-based heat exchanger fluid. Second, a 378-panel grid-tied photovoltaic (PV) array will meet a portion of the center's electricity needs. Combined, the systems are expected to save the college about $25,000 a year.
The $600,000 project is being funded by the college, the Duke Endowment and a North Carolina state grant that is part of the American Recovery and Reinvestment Act. The projects will be installed by Southern Energy Management of Morrisville, N.C., and are scheduled to be completed by the end of the year.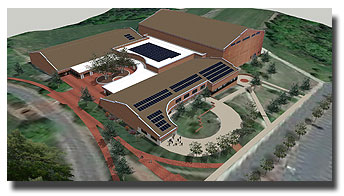 "It's a good experiment to have to have both PV and solar thermal," said project manager Kris Krider. "This way, we can analyze which system works best. Davidson College is taking solar energy seriously. It's good for the environment; and in a climate that averages 300 sunny days a year, it ultimately will pay for itself."
Davidson College has made a commitment to reducing its carbon footprint by signing the American College and University Presidents' Climate Commitment in 2007. The commitment requires participating schools to develop a comprehensive plan to achieve climate neutrality as soon as possible. Among other actions, participating schools can choose to purchase or generate at least 15 percent of their energy consumption from renewable resources.
Become a Green Earthling Deal email subscriber by Friday, October 28th and you could win a wireless solar keyboard from Logitech! Either Mac or PC, it' your choice.