The largest solar power plant in Europe is officially up and running. Completion of work on the 50-megawatt (MW) Andasol 3 parabolic trough plant, combined with the existing and essentially identical Andasol 1 and 2 plants, creates a 150-MW behemoth in Andalusia, Spain – one of only a few locations in Europe well suited to solar thermal generation.
Solar Millennium, one of the German partners in the project, said Andasol 3 is now running in test mode, and commercial operations will begin in the next few weeks. Once fully operational, Andasol 3 is expected to generate approximately 165 million kilowatt-hours (kWh) of electricity per year, and save about 150,000 tons of CO2 emissions.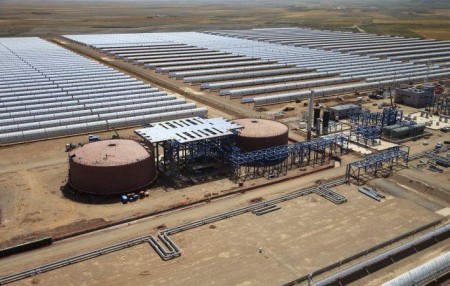 Construction on Andasol 3 began in mid-2008, and was completed this summer. At peak times, the project employed nearly 600 people. Ongoing operation and maintenance of the facility will create about 50 permanent jobs. The power plant consists of approximately 205,000 parabolic reflectors, or giant mirrors, that concentrate the heat generated by the sun into a heat transfer fluid. The thermal energy is then transmitted through a steam circuit to drive a turbine, producing electricity. A thermal storage tank holding 30,000 tons of a special blend of salts can store heat for eight hours, allowing Andasol 3 to continue to generate electricity at night.
The project was made possible by a collaboration between German companies Stadtwerke München, RWE Innogy, RheinEnergie, Ferrostaal, and Solar Millennium.
"Andasol 3 proves that converting Europe's electricity production methods can be achieved far more efficiently if we take an international approach, rather than pursuing national concepts," said Hans Bünting, chief financial officer of RWE Innogy. "I see this power plant as a role model for the rest of Europe; it may even generate the impetus needed for the development of a European market with common regulations for renewable energy sources."