Students at Stanford University are preparing to compete in this year's World Solar Competition hosted in Australia with their solar powered vehicle called the Xenith. Although the team completed the nearly 2,000 mile race from the northern city of Darwin to the southern city of Adelaide back in 2009, they placed dead last out of the 10 teams that finished.
Still, the Stanford team completed the journey two years ago, something 15 other competitors couldn't accomplish. But this year's race may prove to be more difficult as 42 teams are preparing to enter the cross-continent trek. Xenith crew members are hopefully, though, saying their looking to take first place in Australia.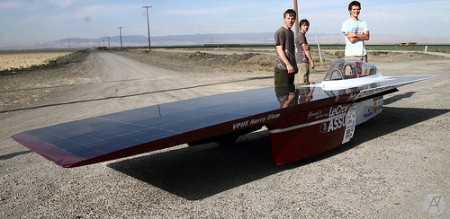 Weighing only 375 pounds, the incredibly lightweight Xenith is said to have a top speed of 55 miles per hour, and the designers claim the vehicle might be the most efficient solar powered car in history. Perhaps the student builders are merely trying to scare the competition, but two years of work and a stated half a million dollars is a pretty solid framework from which to launch the Xenith.
No American university has won the World Solar Competition since 1987, but with colleges like MIT entering this year's race, maybe the U.S. will bring home the gold, so to speak.