Installations were up, but production fell – that's the word from the Solar Energy Industries Association (SEIA) in its latest quarterly report on U.S. activity in the sector.
The SEIA headlined the big growth in new photovoltaics (PV) installations in the second quarter of 2011 compared to the same quarter in 2010 – a whopping 69 increase. Growth from the first quarter was more modest, at 17 percent, but at least there was growth, something that could not be said for PV manufacturing.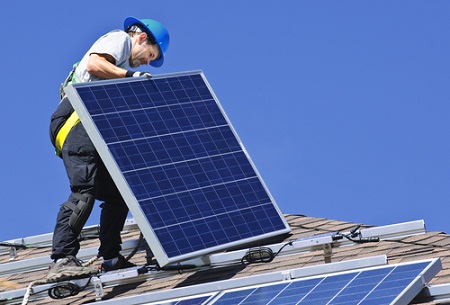 According to the SEIA, domestic module production in the second quarter totaled 333 megawatts, off 11 percent from the first quarter. "Export-oriented firms and facilities witnessed a significant slowdown in production," the group wrote, "while steady growth was seen in the case of producers that are more heavily weighted toward serving the U.S. market."
The shape of the U.S. market shifted in the second quarter, the SEIA said: The utility and commercial markets were up 37 percent and 22 percent, respectively, but the residential sector was off 5.7 percent. The organization forecast a rebound in residential installations in the second half of the year as solar-leasing business models expand nationwide, but tossed a dose of caution into its outlook.
"The potential expiration of the 1603 Treasury program, along with current malaise in major markets such as New Jersey and Pennsylvania, threatens to slow growth in 2012," said Shayle Kann, managing director of solar at GTM Research, which conducts the survey for the SEIA.
As for concentrating solar power (CSP), the SEIA heralded the installation of "several smaller projects" as well as the U.S. Department of Energy's work on loan guarantees for larger projects, but noted a setback to the CSP industry: the announcement that Phase 1 of the big Blythe project would be switched from parabolic trough technology to PV for economic reasons.
While the full SEIA report is available only to subscribers, you can download a PDF of the executive summary.