The University of Maryland has activated a new solar array atop the university's Severn Building. According to a local media report, the system is one of the largest in the Washington, D.C., region.
The university was selected as a Maryland Energy Administration Project Sunburst Initiative Partner and awarded a grant aimed at promoting the installation of renewable energy systems on public buildings in Maryland. Washington Gas Energy Services (WGES) financed the remainder of the project cost and the university will purchase the electricity generated by the solar panels under a 20-year agreement with WGES.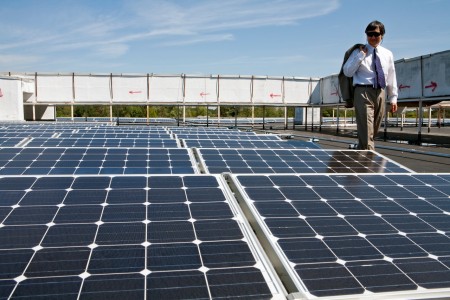 The 631 kilowatt system, which was installed by Standard Solar of Rockville, Md., is owned and operated by WGES. It will produce about 792 megawatt-hours of electricity each year – enough energy to power 872 homes for one month.
While this is a substantial on-campus system, the University of Maryland has executed three long-term power purchase agreements for renewable energy that are much larger in scope, including a 15-megawatt (MW) solar project at Mount St. Mary's University, a 10-MW wind project in western Maryland and a 55-MW wind project in West Virginia.