U.S. island territories have long suffered from high energy prices, and a heavy reliance on imported fossil fuels. With diesel-powered electricity running at rates as high as 40 cents per kilowatt-hour (kWh), solar power seems like an obvious alternative for these sun-drenched islands.
U.S. solar manufacturer SolarWorld recently announced a wave of large-scale grid-tied solar photovoltaic (PV) installations using SolarWorld panels on several U.S. island territories. A 450-kilowatt (kW) system commissioned recently at the Cyril E. King Airport on St. Thomas, in the Virgin Islands, is the largest of these systems. The 1,806-panel system was installed by OneWorld Sustainable of Lexington, Ga., along with students from the University of the Virgin Islands.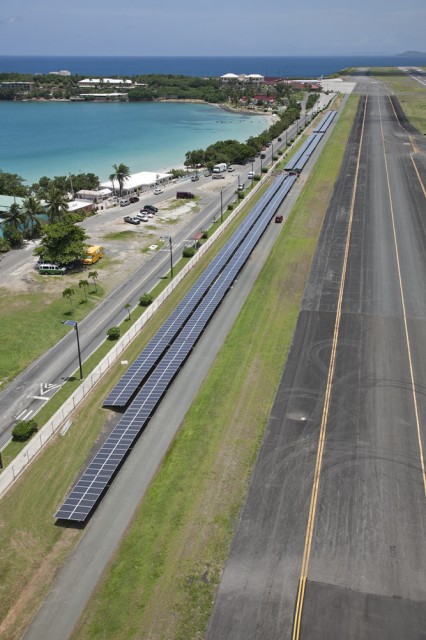 In the South Pacific, a 350-kW PV project will soon be installed on 10 schools and seven government buildings in American Samoa. Funded by the 2009 stimulus, the project follows a similar 680-kW installation on 24 buildings. This project, also featuring SolarWorld panels, will be installed by Island Energy and Marine of Pago-Pago, Samoa. And, in the western Pacific territory of Guam, a 24.84-kW system was installed on a library at Guam Community College late last year, followed by a 29.4-kW system on a college health education building in May.
SolarWorld is the largest U.S. manufacturer of PV modules, and has been supplying solar panels to island territories since about 1980. According to Scott Hagan of Guam-based Pacific Solar and Photovoltaic, the fact that SolarWorld panels are manufactured in the United States is a key selling feature to his customers, even in his remote island location. "We get approached by Taiwan and Korea to buy their products because they're just around the corner, but it's very important to us to support the U.S. economy," he said.