[Editor's Note: This article is part of our ongoing coverage of Solar Decathlon entries leading up to the event's kick off on Sept. 23.]
The University of Calgary is representing Canada in the 2011 Solar Decathlon, and they are bringing TRTL, whose acronym stands for "Technological Residence, Traditional Living." TRTL takes a holistic approach to sustainable living, and draws on inspiration and input from the Treaty 7 Native communities in Southern Alberta. Unlike a lot of the other, boxier entries we've seen, TRTL has a rounded shape, inspired by the traditional tipi. Its east-facing door and south-facing windows reflect the age-old idea of the sun as the source of energy and life. Inside, the two-bedroom home is flexible in terms of layout to meet the needs of the inhabitants.
TRTL was created in response to the sub-standard housing often faced by Canada's Native population, which totals at over 1.1 million people. By engaging in dialogue and creative partnership with Native communities, Canada's Decathlon team hopes to bridge the gaps between Native and non-Native populations and create a positive change throughout the country. They also seek to blend sustainable technology with traditional values.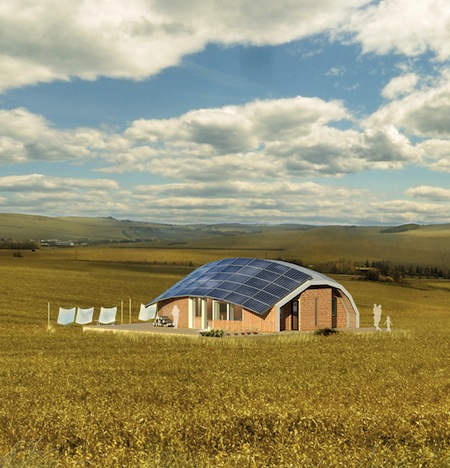 Built for the harsh terrain of Alberta, the house comes with an 8.3 kilowatt PV array specially engineered for the long winters that operated at 93% of its optimal efficiency. The array's rounded form fits flush with the rounded roof, giving it a unified shape. The structural panels, which are insulated and made with a magnesium-oxide base, are highly resistant to mold and fire. An air-to-water heat pump provides hot water and air temperature regulation, and all of this can be monitored by the residents to measure the TRTL's long-term performance. On the decorative side, a color scheme reflecting traditional art of the region was used.
Team Canada is still looking into where TRTL will be placed after the Decathlon. Possibilities include a space on the University of Calgary campus, or in the surrounding community. Another phase of the TRTL project is scheduled to begin after the competition as well, where monitoring, analysis and LEED certification will take place. The original design will also be revamped based on any lessons learned at the Decathlon. In addition, an interactive program geared for elementary and secondary school students is in the development process.