[Editor's Note: This article is part of our ongoing coverage of Solar Decathlon entries leading up to the event's kick off on Sept. 23.]
Tidewater Virginia, whose members come from Old Dominion University and Hampton University, are bringing a house steeped in architectural history and fitted with efficient, sustainable technology to the 2011 Solar Decathlon. Unit 6 Unplugged, as it is known, is designed to be easily integrated into an existing city center, and to be attached to and share utility costs with a larger, multifamily building, which makes it more affordable. The house's design was inspired by the arts-and-crafts-style homes common in the Norfolk area of Virginia, and has three main sections.
The target market for Unit 6 is Norfolk's young professional population, like recent graduates and military personnel, but since many people want to live in a city, the house's connection to a multifamily dwelling appeals to young families and an older demographic as well. Unit 6 offers a variety of features designed for comfort and efficiency, like floor-to-ceiling windows in most of the interior spaces. The porch features motorized windows that can open and close on demand, turning the open porch, which allows cool air in during the summer, into an enclosed sunroom, which collects heat from the sun in the winter.

The technology used in Unit 6 reflects the concept of high performance at low cost. The PV panels on the roof convert about 18% of sunlight into electricity, while sensors on the windows and doors prevent the heating and cooling systems from operating if any of them are open. The hot water tank has an inline heater instead of an auxiliary heating coil to reduce heat loss. A sun shade over the windows reduces cooling needs in the summer, but still allows the sun, whose light comes in at a lower angle during winter months, to provide heat and light during cold times of the year.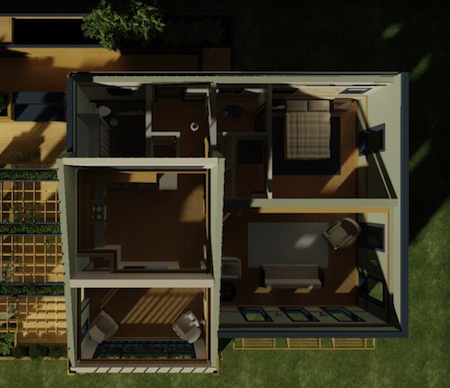 Unit 6 will return to Norfolk after the Decathlon, where it will be used as an architecture and engineering studio by students from both Old Dominion and Hampton Universities. In this way collaborative efforts  of the two schools, started with this year's Decathlon, will be continued in the future.