A lamp that look and acts like a plant, that you can relate to emotionally? That's the idea behind the solar powered Eco-lamp by Kong Wen Da.
This solar lamp concept features what Wen Da terms "Emotive Design" by simulating the way we relate to houseplants — i.e., when the lamp needs to be charged by being placed closer to a window, it wilts, and when it's fully charged, it perks up.  The lamp also features a little something called Intuitive Control: to turn the lamp on, just turn it towards you, and when you want to turn it off, turn it away. (Sensors pick up on your location, giving the lamp the on/off signal.)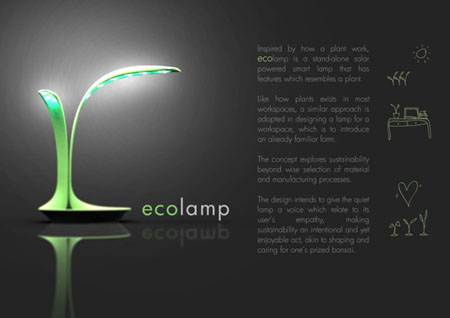 IGreenSpot reports that this infrared sensor also picks on when you walk into the room, and automatically turns the lamp on — and automatically turns off when you step away from your desk, or leave the room. (This function alone is bound to save energy.)
The lamp is constructed of solar cells, bio-metal, a micro-energy cell, and an LED light.