Solar windows are a really cool idea. But building-integrated photovoltaics (BiPV) are a little more complicated than your everyday roof-mounted PV system. The challenge is that designers must match the power output of the solar array not only to the electrical needs of the structure, but also to the aesthetic and structural needs of the building as well.
Focus Materials, a manufacturer and installer of "curtain wall systems" (walls made of windows) for airports, hospitals, schools, high-rise offices and mid-rise residential projects throughout the United States, is now offering custom-fabricated glass-and-aluminum curtain walls equipped with built-in thin-film solar technology.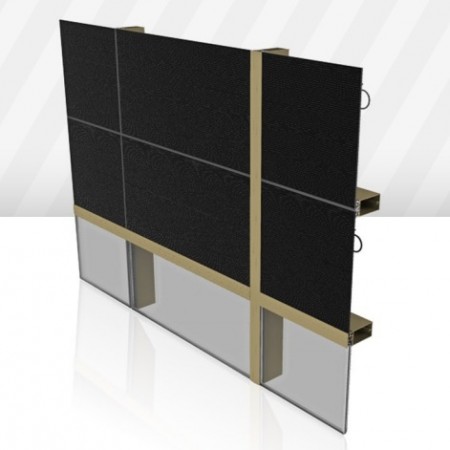 Focus Wall panels are designed to be easy to install and integrate with a larger solar array. The semitransparent PV film performs well in both high-temperature and low-light conditions, according to the company. The panels are also equipped with DC voltage converters to minimize the effects of shading, soiling and other factors that might impact the production of individual panels. These converters, manufactured by eIQ Energy, deliver a constant level of voltage to the PV system's inverters, to keep them running at optimum efficiency. This approach reduces the complexity of system design and wiring, and results in lower materials, labor and overall installation costs.
To preserve the aesthetics of the curtain wall, Focus Materials said it integrates the snap-together electrical connectors for the converter modules and panel wiring into each panel's glass support structure, keeping all of the electrical components out of sight. The technology is available for both new building construction and renovations, and, according to Focus Materials, adds only about 30 percent to the cost of standard curtain wall systems, while producing solar energy to meet the buildings' electricity needs.