Is the U.S. Department of Energy (DOE) getting tough on loan-guarantee candidates in Solyndra's wake? That's hard to say, but in the waning days of the program, this much we do know: One of the projects that had been in the running for big backing – First Solar's 550-megawatt (MW) Topaz solar power plant planned for San Luis Obispo County, Calif. – has fallen by the wayside.
In June, First Solar received conditional commitments for partial loan guarantees totaling $1.93 billion to build the massive photovoltaic solar plant. But on Thursday it said "there was insufficient time to process all requirements" before the loan program is required by law to wrap up business on Sept. 30, and Topaz was out. First Solar added that it was "in advanced talks regarding the sale and financing of the project with potential buyers utilizing a different transaction structure that does not require a DOE loan guarantee."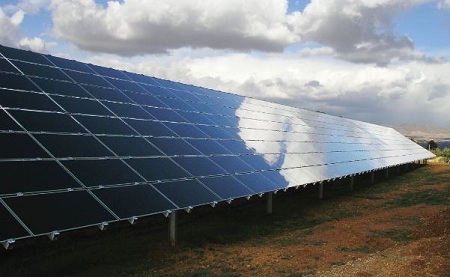 First Solar has two other projects that remain in the running in the Section 1705 program administered by the DOE: a $680 million loan guarantee to support Antelope Valley Solar Ranch 1, a 230-MW plant; and conditional commitments for partial loan guarantees of $1.88 billion to support Desert Sunlight, a 550-MW plant.
Since the Solyndra bankruptcy bombshell at the end of August, critics have ratcheted up criticism of the Obama administration and its green job-creation ambitions. And Republicans in Congress have warned of  "sloppy, poor investments in the final rush to get the cash out the door" as the DOE worked to finalize loan guarantees before the Sept. 30 drop-dead date. So was Topaz a Solyndra backlash victim? Asked about the deal's failure by the Wall Street Journal, a DOE spokesman said simply: "We have consistently said that we will not close any deal until all of the rigorous technical, legal, and financial review has been completed."