Australia is moving aggressively to bring an apparent advance in thin-film solar production by homegrown researchers to market, ponying up $1.7 million to launch a $7.2 million project called "Printing solar cells – A manufacturing proposition for Australia."
The initiative stems from a patented technology developed by scientists at CSIRO, Australia's equivalent of the U.S. National Laboratories, and the University of Melbourne. The researchers say they've found a way to "print" tiny, semiconducting nanocrystals onto a variety of surfaces. They say that by choosing the right combination of ink and surface, they can churn out solar cells (pictured below) using far less energy than traditional photovoltaic panel production.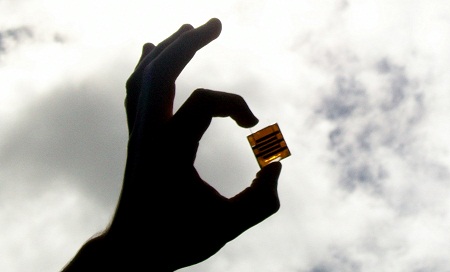 This sounds something like the thin-film solar process embraced by SoloPower, the San Jose-based company that is moving to expand production with a new plant in Oregon. And there are clear echoes, as well, of a recent printed-solar breakthrough at MIT that would potentially offer the possibility of a very cheap and easy way to produce solar cells for disposable consumer goods, wall or window coverings and other applications.
In the Australian effort, researchers at the University of Melbourne, the CSIRO Future Manufacturing Flagship, and Monash University will work with industry partners to take their innovation beyond the lab, the government said. "Industry partners BlueScope Steel, Innovia Films and Robert Bosch will share their expertise and resources to help bring forward new opportunities for Australian solar energy innovation," said Martin Ferguson, the minister for Resources and Energy.