A new program is taking former American soldiers and training them in the fight for clean energy. The Solar for Soldiers program, launched earlier this month, helps train and employ American veterans in clean energy installation.
The first solar installation built through the Solar for Soldiers program was at Flannagan's Dublin, a restaurant and bar in Columbus, Ohio. It's estimate that the establishment's new solar installation will save $238,260 on utility bills over the next 25 years. Tipping Point Renewable Energy runs the Solar for Soldiers program and is currently looking to hire additional veterans.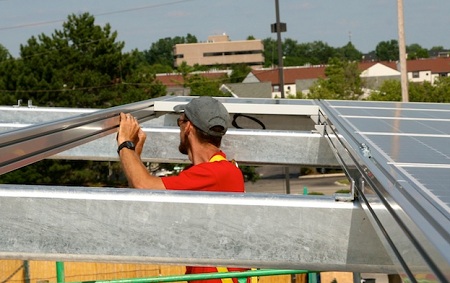 The program was launched as a way to ensure men and women returning from military service have jobs in a growing field. The unemployment rate for veterans between the ages of 20 and 24 is at 27 percent, according to U.S. Senator Sherrod Brown (D-Ohio), who helped create the program.
Brown is working with veterans in his area to connect them to jobs in the renewable energy field. He said Central Ohio alone has more than $20 million-worth of solar projects waiting to be added. Brown hopes to make Ohio the Silicon Valley of clean energy manufacturing. Solar power is one of the fastest growing industries in the United States, according to Tipping Point CEO Eric Zimmer.
EarthTechling is launching a weekly green deals service in fall 2011 called Green Earthling Deals. Sign up for the weekly email by Wednesday, August 17, and you'll be entered to win a 1st Step Weather Station from Urban Green Energy!