For thousands of Sun Devil fans, a new structure going up at Arizona State University will be little more than a place to park the car before football and baseball games, but the 2.1-megawatt solar array planned for the top of the structure is the big star of an announcement from Princeton, N.J.-based NRG Energy.
The "PowerParasol" will shade 800 parking spaces with a 24-foot-high, 5.25-acre covering developed in partnership with Arizona-based Strategic Solar Energy. The PowerParasol is Strategic's flagship product. Construction on the unit at ASU is set to begin in mid-August and would be Strategic's first such product. The project will consist of 7,584 photovoltaic panels.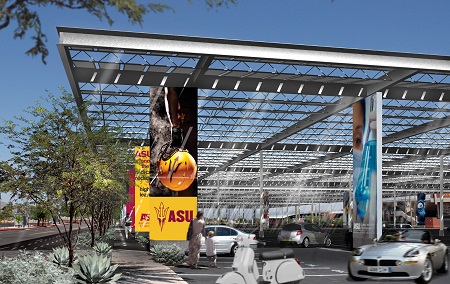 Arizona State University signed a 25-year, $10.5 million agreement allowing NRG to own and operate the PowerParasol, with the school charged a flat rate for electricity for the length of the deal. In its release announcing the deal, NRG says the school can earn revenues by selling advertisements on the parking facility's supports.
Construction on the PowerParasol is scheduled to begin this month and is expected to completed by the end of this year. Other features may be incorporated into the structure, including electric vehicle charging stations, cell phone antennas and security cameras.
EarthTechling is launching a weekly green deals service in fall 2011 called Green Earthling Deals. Sign up for the weekly email by Wednesday, August 17, and you'll be entered to win a 1st Step Weather Station from Urban Green Energy!