U.S. Secretary of the Interior Ken Salazar recently opened up 4,144 acres of public lands in the California desert east of Palm Springs to house the Desert Sunlight Solar Farm. Once completed, the 550-megawatt (MW) solar-photovoltaic plant is expected to produce enough electricity to power more than 165,000 homes.
The solar project will be developed and operated by Desert Sunlight Holdings, a subsidiary of First Solar, which in June received a $1.88 billion loan guarantee from the U.S. Department of Energy for the construction. Backers say the project, about six miles north of the rural community of Desert Center, will generate $336 million for the local economy from indirect benefits, including $197 million in wages. Construction will create 630 jobs at its peak, with 15 operations and maintenance jobs remaining. The project will also generate about $27 million in sales and property tax revenue to Riverside County.\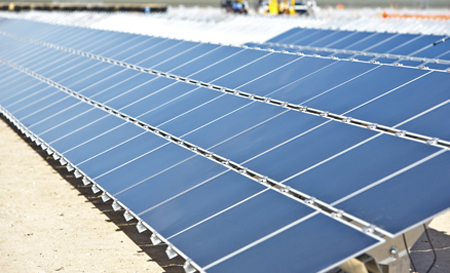 The Interior Department said the Bureau of Land Management (BLM) worked closely with First Solar, the National Park Service and other stakeholders to reduce the proposed project's total footprint from its originally planned 19,000 acres. In addition, the BLM is requiring that Desert Sunlight provide funding for acquisition and enhancement of more than 7,500 acres of suitable habitat for desert tortoise and other sensitive wildlife species. The company will fund a plan to minimize potential impacts to Joshua Tree National Park and wilderness areas and will also use state-of-the-art lighting to protect the night sky views.
Desert Sunlight is the 12th solar project to advance since the Department of Interior made renewable energy a priority in March 2009.  This is the third solar project of 2011 for the Department.