For now, it's California's largest functioning photovoltaic solar power plant. The 45-megawatt (MW) Avenal Solar Generating Facility on the western flank of the San Joaquin Valley began commercial operations this month, owners NRG and Eurus announced, and it's said to be producing enough power to keep the lights, air conditioners, big-screen TVs and refrigerators humming in 36,000 homes.
Electricity from Avenal is going to Pacific Gas & Electric. Big as Avenal is, the utility has deals for power from a number of far larger photovoltaic plants that are either under construction or planned for California, including three plants, ranging in size from 230 to 550 MW, that recently received conditional approval for federal loan guarantees totaling around $4.5 billion.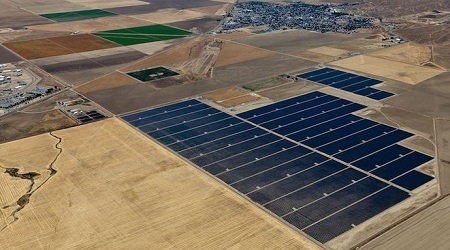 According to NRG, the Avenal plant, about 75 miles north of Bakersfield in Kings County, comprises three projects: Avenal Park (6 MW), Sun City (20 MW) and Sand Drag (19 MW). In earlier announcements, the companies said the plant would use thin film solar panels from Sharp Electronics.
While NRG Energy is a familiar name to solar-watchers, generating a lot of news through its NRG Solar subsidiary, Eurus Energy has a lower solar profile. Based in Japan, the company has been more active in wind in the United States, owning and operating wind-power plants in Oregon, Texas, Illinois and California, while Avenal is the only U.S. solar-power plant listed on its website.