We admit we enjoy covering new yachts that incorporate green technology if only to aim a few jeers in their direction. After all, is there anything truly green about cruising through the water on a giant luxury boat? Still, as unlikely of an eco-friendly ally as yachts are, it's nice to see new concepts that cater to the wealthy are starting to embrace clean energy ideas. Such is the case with a new hybrid yacht concept from Sauter Carbon Offset Design and the Ned Ship Group called the Emax Excalibur.
The mega-boat is roughly 72 feet in length, and features three double cabins, plus a single cabin, but not much deck space as a good deal of ship is covered in a photovoltaic carbon epoxy exoskeleton, giving it a solar power boost of energy that helps render the vessel nearly carbon-neutral when traveling at low speeds.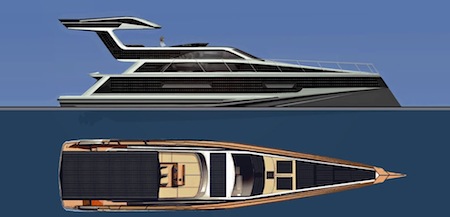 The Emax Excalibur is equipped with a plug-in lithium-ion battery system of under 200 kilowatts, as well as two V8 VW TDI305 motors and a GM Allison Hybrid Transmission that was original designed with help from the Department of Energy. The craft can carry 3,000 liters of fuel, and travel a maximum speed of 30 knots.
All in all, not a bad way to travel, if you want to get away from everything. And besides, if you want to be truly free, there's nothing like turning a giant cruiser into international waters for a couple days of unbridled decadence. Or maybe just a quick jaunt around the Italian cost for some light golfing. That sounds nice, too.