We've been tracking the growth of the innovative solar-power brokering company One Block Off the Grid, which moved into Philadelphia in early April, then quickly expanded into Massachusetts, Maryland and California's Central Valley. Now the buzz-generating company, which aggregates buyers in geographical areas to leverage discount pricing from solar providers and installers, has announced expansion into 34 states – and it's launched an interactive national map that it hopes will promote growth in green jobs "at the state level," while no doubt feeding it the customers it needs to make discount deals possible.
One Block says the map "shows real-time levels of homeowner solar activity all the way down to the county level, as well as an estimated number of jobs that would be created in each state if solar policies were stronger." And, just in case you're interested, the map also lets you know if One Block has cobbled together enough buyers in your area to make a group-discount deal possible.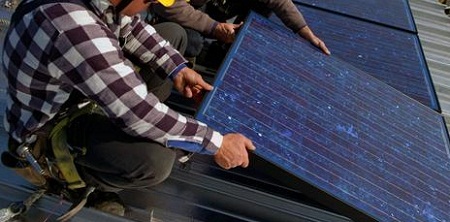 There's a cause-marketing angle to One Block's new national program, as well: Profits from it will go to Kiva City, a U.S.-focused microlending platform backed that recently won the support of former President Bill Clinton.
San Francisco-based One Block has been creating a big buzz with its business model, fetching mention in Time, the Economist, the New York Times and, most recently, earning the title "the Groupon of solar power" from CNN.