For all the smart home of tomorrow technology we hear about, little of it seems to be tied into social networks like Facebook at this point. Apart from one smart home experiment we heard about last year that lets you share your energy usage data with friends, the connection between personalized cleantech data and social media has been nill. One company, however, thinks solar panel owners are ready to share data.
SunReports said today it is now the first solar power monitoring company to allow its customers to publicly display and share system performance on Facebook. The company offers residential solar energy monitoring for both solar PV and solar hot water systems so owners can see how performance of their systems is going.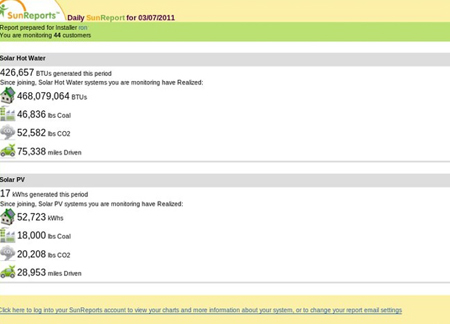 The new Facebook integration will allow SunReports customers who opt into the Facebook tool to "choose how frequently to post their energy data onto their Facebook wall: daily, weekly, or monthly.  These 'Energy Performance Updates' include energy equivalents to make their data more intuitive, for example equating solar energy created to miles driven in a car or tons of carbon dioxide emissions avoided."
SunReports believes that by offering this Facebook data display option, solar energy system owners can crow a little more about how much clean energy generation is really going on. It is an interesting idea this company seems to be onto here, and one we certainly will be curious to see in actual implementation.