Last September the County of  San Diego Board of Supervisors approved changes in policy that increased the limit of small wind turbine installations at residences and small businesses from two to five units. According to DyoCore, manufacturer of the "Solair" hybrid wind/solar power generator, its product was a major contributing factor to the board's decision and is helping to enhance alternative energy options for San Diego residents.
The Solair, which we first glimpsed at last year, is a small 60 lb. wind turbine with a blade radius of 64 inches and a solar panel integrated into its fin. The wind turbine is said to make efficient use of even slow moving wind, generating electricity in winds as light at 6 mph to as gusty as 60 mph.  The solar panel integrated into the fin makes use of thin-film transistor technology which is said to be capable of generating electricity, even in low light situations.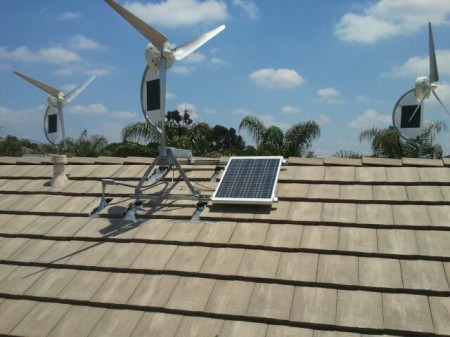 The Solair can be mounted to flat or pitched surfaces and either ballasted down or bolted into place.  If the Solair should ever need to be decommissioned, it can be disposed of guilt-free since the entire structure is made from recyclable materials.
The Solair is designed to be integrated with DC/AC inverters which can feed any unused power into the grid-a particularly handy feature for those that live in areas with feed-in tariffs or regions which may soon adopt such policies.
EarthTechling Reader Appreciation Week is June 13-17.  We're giving away awesome green gifts to Facebook fans and newsletter subscribers.  Participate in the green goodness by joining our newsletter and Facebook communities.