A very unique project blending two favorites of green technology lovers – high speed rail and clean energy – has been completed in Europe by Belgian rail operator Infrabel and renewable energy developer Enfinity. This solar powered high speed rail tunnel we first brought you word of back in October.
Enfinity said the roof of tunnel of the HSL4 (high-speed line Antwerp – Amsterdam) high speed rail line in Antwerp, Belgium now has 16,000 solar panels installed atop it. These panels cover a total surface area of 50,000 m², which is about the size of 8 football pitches according to European metrics. The energy produced from these panels is being used, according to Enfinity, to power the railway infrastructure (signaling, lighting, heating of railway stations etc.) and also the trains using the Belgian rail network.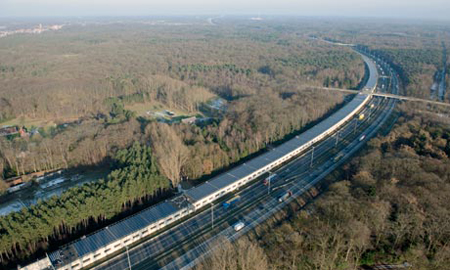 Approximately 3.3 MWh of electricity reportedly will be generated per year, which is said to be the equivalent to the average annual electricity consumption of nearly 1,000 homes. It is believed that 4,000 trains per year – equivalent to one full day of rail traffic – will be able to run entirely on solar energy.
The so called Solar Tunnel is believed to be the first of its kind in Europe and also the first time railway infrastructure has been used to generate green energy. You can marvel at the wonders of this blending of green technologies below while you consider that here in the US high speed rail is basically still a pipe dream.