A solar powered airplane dubbed the Solar Pulse recently completed its first international flight, traveling from Switzerland to Belgium, using only the energy from the sun's rays.
André Borschberg, the project's co-founder and CEO, safely piloted the craft from Payerne, Switzerland to Brussels, Belgium while maintaining an average altitude of 6,000 feet. Total distance traveled was 630 km (340 nautical miles), with the average speed being a somewhat slow 50km/h (27 knots).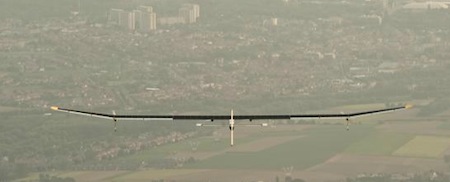 The journey took just under 13 hours, which is obviously much longer than a traditional flight would take, but none-the-less impressive for a solar powered passenger plane. Last year, we reported on the unmanned Zephyr solar plane that flew for a full two weeks, but that's nothing compared to the spy craft the United States government is designing to stay in the air for a staggering five years.
NASA recently announced it would spend more than $15 million on green airplane research, but as praise-worthy as the Solar Impluse's recent feet is, the flight certainly highlights the challenges and long road ahead of scientists and manufacturers have to travel before getting a solar powered commercial airplane in the sky.