We've been following some green actions in the California agribusiness sector as farms and food processors turn to renewable energy to support their operations. Here's more news pointing to a movement toward green food production. Solar systems manufacturer SolFocus recently announced an installation of a solar power plant at Nichols Farms in Hanford, CA that will provide the pistachio processor with enough clean energy this year to cover about 70% of the farm's electricity needs.
The installation involved SolFocus' high concentrator photovoltaic (CPV) system which was placed on six acres adjacent to the Nichols'  pistachio processing facility. The new power plant consists of 119 8.8 kilowatt CPV systems which SolFocus indicates should generate about 2,244 million kilowatt hours (kWh) in the first year.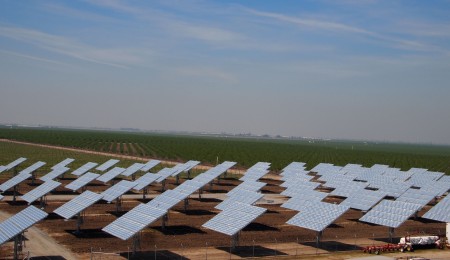 CPV solar systems differ from standard photovoltaic (PV) systems in that they concentrate a large amount of sun onto a very small solar cell. The system that SolFocus used at Nichols Farm is considered a  high concentrator photovoltaic (HCPV) system because it magnifies direct sunlight 650 times its normal strength.
Many CPV systems, including those used in the Nichols Farm project, include tracking systems and motors that move the panels to follow the sunlight throughout the day. The SolFocus system used in this installation features a "dual axis" technology that allows the panel to achieve very precise solar exposure. Sun tracking is necessary because CPV systems operate best in direct sunlight. In fact, CPV systems don't do so well in diffuse sun conditions (cloudy) so considering a location's sun exposure profile is important. Fortunately for Nichols Farms, its California location makes what looks to be an ideal location for CPV solar systems which offer a high energy yield at a relatively low cost.
EarthTechling wants your opinion! Take EarthTechling's 3-minute reader survey and enter to win a $250 Amazon gift card.  The 2011 survey closes on April 15, 2011.