The U.S. Wheeler Army Airfield in Hawaii recently unveiled the organization's first Smart-Charging Micro Grid (SCMG) system outside garrison headquarters at a formal maile lei event hosted by Col. Douglas Mulbury.
The prototype was created at the U.S. Army Tank Automotive Research, Development and Engineering Center (TARDEC) in Detroit, along with help from the private industry, although specific companies were not credited. Consisting of a 25 kilowatt solar array, the SCMG has the capacity for 200 kilowatt-hours of battery storage and four plug-in electric vehicles.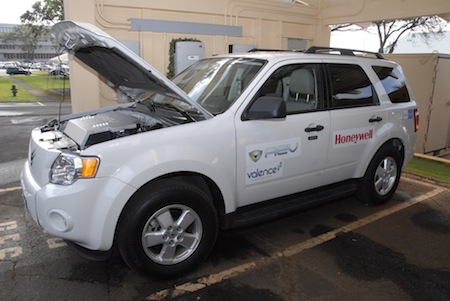 In addition to being able to power four electric vehicles, like the one in the photo above, the SCMG can provide instant backup power that can support two, three-story buildings and garrison headquarters for 72 hours. The prototype is also mobile, using hybrid trucks to export the power.
Over half of the fuel the U.S. Army delivers to supply lines is used for electrical power generation, more than aircraft and vehicle use combined. By lowering the amount of supplies that need to be delivered, the military hopes to save lives, something the U.S. Marines echoed in our recent report about using solar systems to power operations in Afghanistan.