India utility Tata Power and Australian solar power company Sunengy recently announced a partnership that will allow Sunengy to test its floating solar technology at a hydroelectric dam location in India. The company's technology, which Sunengy calls  Liquid Solar Array (LSA) was developed by Sunengy's executive director Phil Connor and takes advantage of its strategically placed floating location in multiple ways.
Like a similar floating solar technology that we covered earlier, LSA is built with traditional concentrated photovoltaic (CPV) technology, a system that uses a lens to track the sun as it moves across the sky, keeping rays focused on a small concentration of solar cells. The array is then set out to float in waters near a hydroelectric dam. The choice to place it in the water near a dam benefits both the solar array and the hydroelectric power system.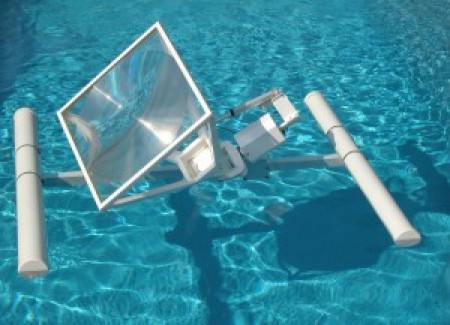 According to Sunengy, the solar array benefits from the  water that it floats in because the water can keep the cells cool in hot weather, thereby increasing their efficiency and life span. Floating the array also makes it virtually impervious to extreme wind conditions, which eliminates the need for a costly support structure. The dam benefits from the solar energy that is generated because it can store the energy, like a big battery, for times when water supply is low or during peak use hours when the dam's energy supply isn't efficient enough to handle the load it faces.
Connor notes that hydropower supplies 87 percent of the world's renewable energy and 16 percent of the world's power but is limited by its water resource. He also stated that an LSA installation could match the power output of a typical hydro dam using less than 10 percent of its surface area and supply an additional six to eight hours of power per day.