It's been a while since we've seen solar technology and high-fashion merged successfully. It was just under a year ago that we took a look at some solar handbags designed by the likes of Tommy Hilfiger and Diane Van Furstenburg and there are a few other exceptions but, generally speaking, fashion designers haven't exactly been clamoring over each other to produce hip, stylish, solar-infused products you would actually want to wear on your person. Fashion icon Ralph Lauren is apparently ready to give stylish solar a shot, however,as last week we heard that Ralph Lauren launched a Solar Panel Backpack as part of its RLX line.
The backpack is reportedly made from a thin, seamless, water-resistant material. The back portion of the pack is outfitted with four solar panels that pump out 3.45 watts of current. That should be about enough to charge up an iPhone in two or three hours provided the solar panels have some seriously direct sun exposure.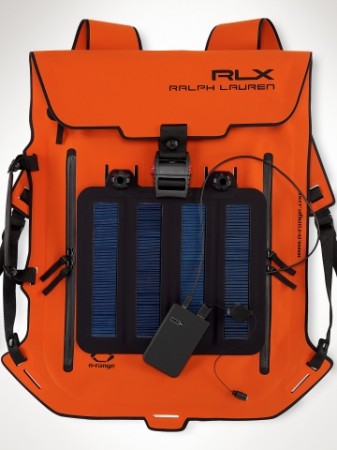 The pack is said to measure roughly 20″ H x 14″ L x 1″ D and is available in both orange and black. The pack's shoulder straps are fully adjustable and the designers have also integrated a handle on the side plus a security strap for the top flap so that pack can be carried like a satchel.
Perhaps the only thing that stands out more than the pack's orange color option is the price. The RLX solar backpack probably isn't the most expensive backpack in the world, but it will set you back about $800.00. Ouch.